Home Book Art Quilts Quilt Repair Lectures and Workshops Quilt History Costumes Resumé Contact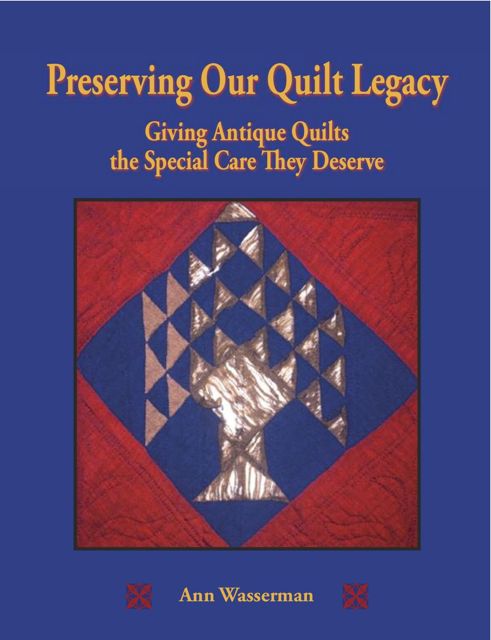 Preserving Our Quilt Legacy:
Giving Antique Quilts the Special Care They Deserve
3rd edition
by Ann Wasserman
A Unique Guide to Antique Quilt Care for Quilters and Quilt Collectors
Book design: Rivera Design & Communication
juleriveradesign@gmail.com

I am pleased to announce that this book is now available at:
The National Quilt Museum in Paducah, KY
The Daughters of the American Revolution Museum in Washington, DC
The Virginia Quilt Museum in Harrisonburg VA
and these fine shops


Paperback book
106 pages plus 16 color plates - $29.95

Click to purchase via the AnnQuilts shop at Square.com.
**Buying from me via Square helps my small business survive. Thank you!**
Would you like an autographed copy?
Comment on your order form at AnnQuilts shop at Square.com with the name you'd like written and any other particulars.

Email me for information on shipping outside the US and for wholesale orders.

My book is no longer available on Amazon.
Selling through Square costs significantly less for nearly the same list of services. (All I have added is needing to make my own receipt, which is not a hardship.) In addition, Square provides a smoother and more flexible seller interface. And in addition to that, I feel much more in charge of my business decisions by selling this way.
It's definitely the way to go for my small business and for my world view.
I am happy to say that I've been getting more and more orders here at my website this calendar year, and am very grateful to those of you who are shopping from small businesses and independent producers and artists.
Ann Wasserman
annquilts@comcast.net
Book description:
My background in anthropology and archeology has led me to understand how much history and meaning everyday items like quilts can hold. And yet, they, like other fiber items, are relatively fragile. Thoughtful care can help preserve them for the generations to come. In this book, I describe my 30 years of learning and experience with antique quilt restoration and conservation.
Quilt owners are guided through the process of choosing the most appropriate ways of caring for their treasures. I offer information useful both for collectors hoping to find professionals to care for their collections, and for quilters and quilt owners who want instructions they can follow in the home.
The book centers on my three basic rules of quilt care:
"Preventative maintenance is the best medicine."
"Do as little as possible."
"Don't do anything that can't be undone."
I present both conservation and restoration techniques and supplies, and offer guidelines for proper storage, display, and cleaning. The book is illustrated throughout with step-by-step diagrams and color plates. Along the way, I share tales of some of the beautiful quilts that have passed through my studio for repair, cleaning, and conservation.
Visit my blog to read stories about interesting quilts that have come to me for repair and conservation.
Testimonials

"Thank you for coming out with a comprehensive publication on this subject of quilt restoration. You are inspiring me to start my own blog soon, to add to the knowledge bank of what's out there in our field – so that others may want to learn!"
Martha Spark, Quilt Restoration Services & Consulting



"I've just finished reading your book Preserving Our Quilt Legacy and I thoroughly enjoyed it. I have been restoring and conserving quilts for over ten years, and as I read your book I was seconding your thoughts on conservative treatment of quilt repairs and learning new techniques for my own repair work in the future. This was a much needed update to Camille Cognac's twenty year old work. Thank you!"
Dale Drake, Swallowtail Ridge Quilt Repair and Restoration

A quilt store owner using the information in my book to enhance her business.
"I am a commission quilter and owner of Quilts By Commission in Auburn, NY. I purchased your book a few months ago and devoured every word of it as I have 3 vintage quilts that clients want me to "fix". As you can imagine I was honored to help these very loved items, but wanted to do my research. If it weren't for your pictures and information I would never have known where to start. There is not much information online, and it is certainly not a topic I have ever come across at a quilt show or guild program."
Stephanie McCall

See how a quilt restorer used the information in my book to advance her skills.
http://annquiltsblog.blogspot.com/2014/10/my-quilt-care-book-update.html

5-star reviews on Amazon for 1st and 2nd editions.

Customer.
My mother-in-law made the crazy quilt in the photos in the 1920's. My daughter inherited it. It had damage where it had been folded for all those years. Otherwise, it was in pretty good condition. I show the before and after pictures of a pink piece (photos 1 & 2), and the last photo is of the quilt. I used your book to plan and make the repairs. I would not have known where to start otherwise! I used a lightweight silk fabric to make the appliques, and 100 wt silk thread to do the repair. I bought silk organza to cover the binding which was badly worn. We were pleased that the color was so good with the original fabric. Your book addressed all the issues I was working on, so thank you!